JUDITH SUPINE
LADY BOY
13 Apr 2011 to 13 May 2011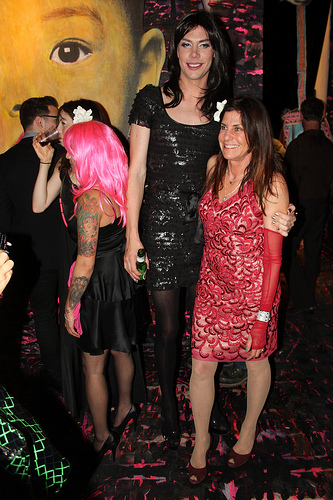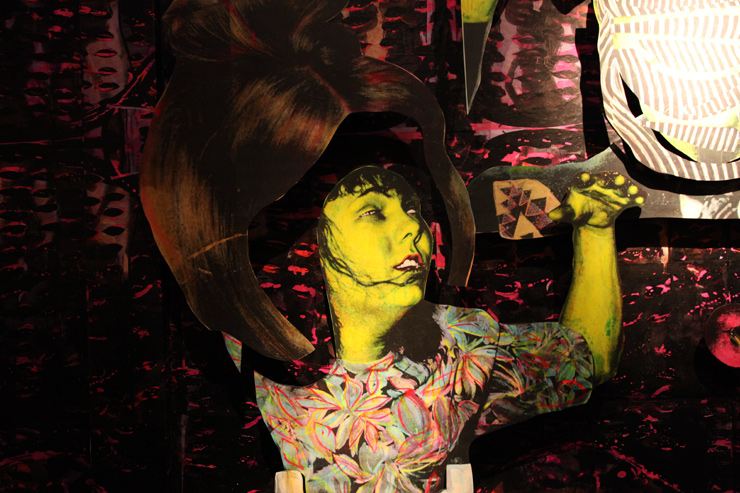 New Image Art is pleased to announce LADYBOY, the highly anticipated solo show by Judith Supine, collagist of the psychedelic and surreal. The exhibition features the artist's newest and most ambitious work to date, showcasing more than twenty canvases and large-scale woodcut sculptures up to fourteen feet high. Supine has transformed the entire gallery into a personal installation space, covering every inch of floor, wall and ceiling with silk screened wallpaper, his signature fluorescent colors and dreamlike narratives.
LADYBOY references the "genderqueer". Supine describes the title's significance as "the marriage of opposites in one person — comparable to the technique of collage, combining seemingly disparate images to reveal something which wasn't previously apparent. An intimate encounter by the artist with a ladyboy in Bangkok served as the stimulus for this exhibition.
Brooklyn-based Judith Supine uses a hyperactive imagination to merge images of people, pornography and design elements. He describes his materials as "free or at least really cheap": X-Acto knife, glue sticks, low-cost paint, thrown-out books, and magazines — whether sourced from the trash, the public library, the dentist's office, or bankrupt porn shops. Figures with disproportionate features are created, revealing a developed technique and distinct style, both gritty and sophisticated. Supine is widely recognized for his art in the streets both for the pieces themselves and their exceptional placement. He goes to great lengths to display his work in some of the most creative and death-defying urban locations, whether the middle of New York's East River or suspended from the Williamsburg Bridge. "He bursts out onto the streets on a completely different level", says gallery director Marsea Goldberg.
Judith Supine has participated in both solo and group exhibitions worldwide, including at galleries in Los Angeles, New York City, London and Berlin. His work was displayed at Wooster Collective's seminal 11 Spring Street show in 2006, and has also been shown at the art festivals FAME in Italy and Nuart in Norway.