Group Show - Yeah The Fucking Crap Of Life
MATT FURIE, MEGAN WHITMARSH, CHRISTOPHER FORGUES
YEAH THE FUCKING CRAP OF LIFE
21 Feb 2009 to 21 Mar 2009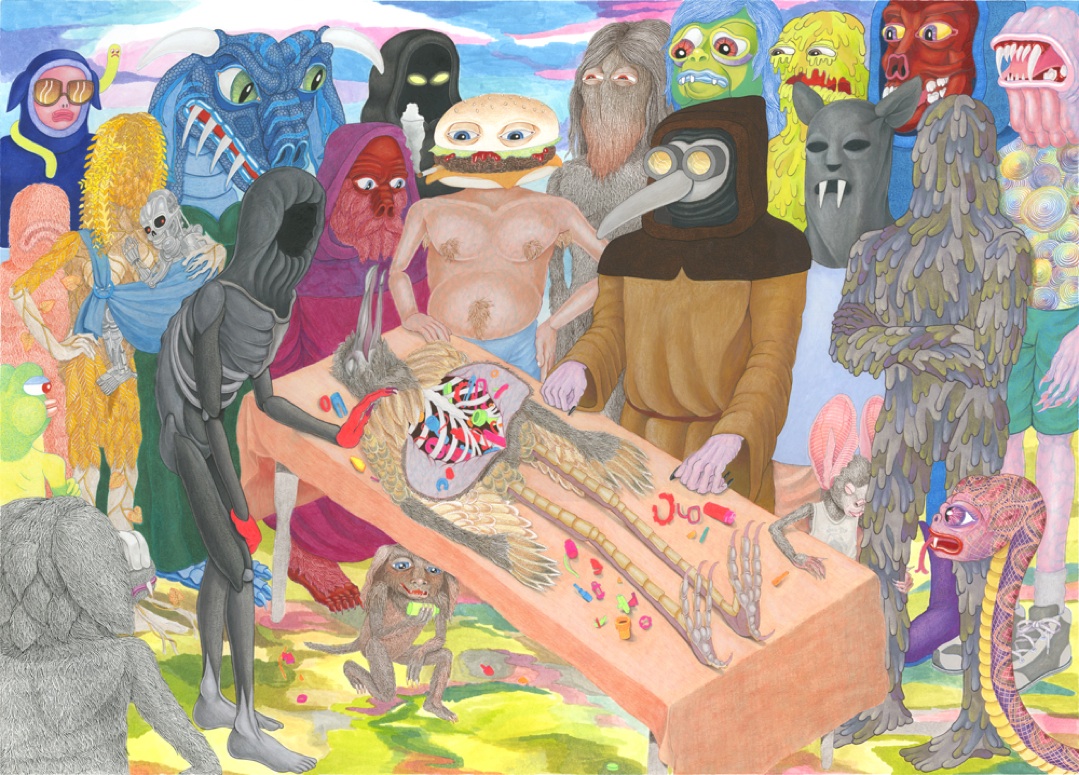 Megan Whitmarsh:
I am a child of the 70s whose sense of futurism is informed by Star Wars (fucked-up dusty robots) instead of Tomorrow Land. A future with entropy and drug use and weeds growing in the cracks between the scratched plexiglass windows of the geodesic domes. Bits of yarn and dusty houseplants. If this sounds bleak, I don't mean for it to. Perhaps the healthiest kind of futurism is one that admits entropy and flux. Perfection is suspicious; worn and dusty can mean well-loved, too. Who loves the Stepford Wife? When I make a giant mountain of handmade trash I am lost in the fun of making, and feel like a kid building a fort. In the end I must resign myself to the fact that I have just added more crap to the world, but this seems an inevitable part of being an artist and a human. I try to remain optimistic. I like art that is generous in spirit and amateurish, art that inspires rather than intimidates. I consider art a practice of transformation. We cannot expect to make new energy; instead we must reinvent, recycle, and transform what exists already. Making art is my attempt to synthesize my optimistic vision of the future with my pragmatic appraisal of the world I inhabit.
Christopher Forgues:
Born 1979 in Fitchburg Ma, and currently living in Providence RI. Chris is also known as CF is a comic book maker, musician and artist living in Providence, RI. He performs his music under the name Kites and has numerous self released tapes as well as recordings on Load records.He plays hand made electronics, originally simple oscillators that have have now advanced with his skill as an instrument builder into more complicated synthesizers. Both his visual and aural art has been influential among a growing underground of contemporary American art and music that could and maybe should be called "noise". He helped to release the free comic Paper Rodeo andhas just published the first book of a trilogy titled Power Masters with Picture Box. CF received his MFA at Massachusetts College of Art. Selected exhibitions include "Fumetto" at the Lucerene Art Museum, Switzerland, "Hell" at Stairwell Gallery, Providence RI, "Crocodile Tears" at Giant Robot, "Male Order Monsters" at Hope Gallery, "Deaftholds" at Mountainfold Gallery, "White Noise Drawn Together" at V1 Gallery, Copenhagen among others.
Matt Furie:
Matt Furie was born in Columbus, Ohio in 1979. He graduated from Ohio Wesleyan University in Delaware, Ohio. He currently lives in San Francisco. Matt Furie's drawings come from a mix of child-like enchantment and momentary adult situations. His self proclaimed "…children's book illustrations for adults" combines traditional and modern mark-making for his ripe, cartoon-inspired characters. Last year he was awarded best Visual Artist by the SF Bay Guardian in the 20th annual Goldie awards. Furie has exhibited in San Francisco, New York, Los Angeles, and abroad. His art has appeared in numerous magazines including juxtapoz, vice, the believer, the oxford american journal and swindle.