GROUP SHOW
HIGH FIVE
21 Apr 2012 to 26 May 2012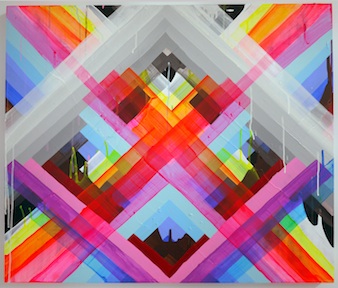 New Image Art is excited to present "High Five," a group-show featuring six artists with six very distinctive styles and voices beloved by New Image Art. Alia Penner, Ashley Macomber, Curtis Kulig, Deanna Templeton, Maya Hayuk, and Vanessa Prager will be filling the gallery with new paintings on paper and canvas, as well as a photography installation.
While remaining anomalous, Ashley Macomber's thought-provoking paintings pay homage to the female surrealist movement and offer a nod to the technical styling of René Magritte. In a similar acknowledgment to the feminine surrealist movement is work of self-taught painter Vanessa Prager. Prager's highly saturated works give way to a false sense of reality; her study of the universe feels accurate. Her portrayal of human behavior scratches at life's emotional ups and downs, and the contrast between the bursts of color in the foreground and stark backgrounds reflects this natural turmoil. Curtis Kulig, maybe better known for his moniker "Love Me;" seen freely scribbled in a calligraphic-style both as graffiti and over canvases of solid fields. Focusing on the beauty of the line and word his signature leads the viewer to ponder the implications of "Love Me." Is it the artist's own insecurity or is it our own? Either way the honesty of the simple phrase – the desire, makes us smile and wish! And on the topic of Love, the psychedelic and geometric paintings of Maya Hayuk when boiling the combined components of light and dark, punk, and folk, can be reduced to reveal their truth, which is none other than Love. In the artist Alia Penner's eyes, everything looks better covered in rainbows. Not girly, pastel rainbows, but brilliant acid hues that bring to mind Peter Max and Sonia Delaunay. (Extract from NY Times Magazine) Documentary, and internationally acclaimed photographer, Deanna Templeton will be installing her iconic photographic images in a network of evenly spaced horizontal and vertical lines that will read as a single unit.
Alia Penner is an artist born and raised in the trees of Topanga Canyon, California. She brushes, cuts, snaps, and glues together her fantastic world of hypnotic color and classic dreaminess. Since graduating Otis College of Art and Design in 2007, she has worked on projects for Missoni, TopShop, Obey and H&M. Her art has been featured in the New York Times, Arthur, and Lula magazine. She recently exhibited her work at Colette in Paris. With visions of cosmic roses, infinite rainbows and radiant ladies she hopes to open up portals to our technicolor dreams.
Ashley Macomber's work reveals the complexities of human relationships and the fundamental entanglement of power, vulnerability and love. Working in painting, video and sculpture, the artist creates a web of associations between emotion and perception, influence and intuition. Ashley has exhibited her work at Kavi Gupta Gallery, IL, Marianne Boesky Gallery, NY, Deste Foundation Center for Contemporary Art, Athens, Greece, Creative Time, NY, Elizabeth Dee Gallery, NY, New Image Art, LA, Clementine Gallery and White Box, NY. Macomber has also been included in several publications including Revisionaries by Tokion, and ANP Quarterly Issue #9. She attended the Rhode Island School of Design.
Curtis Kulig is best known for obsessively covering his canvases and the streets of New York City with the two-word phrase "Love Me." An inversion of New York's famous slogan, Kulig's ubiquitous plea speaks at once to humans' most primal desire and belies self-doubt and -criticism. "Whatever it's become," Kulig says, "It's kind of my everything." Kulig was born in North Dakota and got his first taste of creating in his father's screen-printing shop at age 13.His work has been featured at Mallick Williams & Co, Leo Kesting Gallery, and NYEHAUS in New York; Subliminal Projects, in Los Angeles.
Deanna Templeton, b. 1969 in Orange County, CA. Deanna Templeton came from a dysfunctional family and emerged from tumultuous teenage years relatively unscathed. She lives in Huntington Beach, CA with her skateboarder/artist husband, Ed Templeton. She came to photography, through her travels, and soon started documenting the people and places that make the Orange County suburbs so strange. Her work is a close-up glimpse into the youth culture and bland architecture that slips through the cracks in this mega-suburb.
Maya Hayuk is a muralist, painter, photographer,printmaker, curator, player of records, writer, performer, collector, Barnstormer, video maker, documentarian and lover of life who's lives in Brooklyn, New York by way of San Francisco, Baltimore, Boston and Toronto. From her large-scale murals to small works on paper her obsession with symmetry and her collection of images of mandalas, playing cards, hexes, totem poles, Ukrainian Easter eggs, quilts and bandanas play out in works that espouse the traditional as well as the innovative. Embracing both sexuality and spirituality via symbolism evocative of radiantly woven geometries to the beckoning parted orifices of the body, there is something very classic rock, punk folk rainbow peace, freak out about Maya Hayuk that is very hard to put a finger on, but really it's all about love. Her vividly bold geometric works evoke the process towards continuity and wholeness whose forces seem bent on maintaining the triumph of this love over evil. Along with her solo work, Hayuk frequently collaborates with other artists and musicians.
While Vanessa Prager's resume says "No formal education," for the 26-year-old painter, illustrator, and younger sister of photographer Alex Prager, artistic blood clearly runs in the family. Vanessa started painting at 19, had her first show in 2003 and has been wooing the art world with her unique works ever since, even garnering a recent commission from Shepard Fairey. "…it's exciting to see how she has developed her own unique voice, " says Alex. "Her pictures now are super psychedelic. They feel like the 1940
′
s mixed with Blade Runner and Mad Max."