Group Exhibition - The Thrill Of Victory The Agony Of Defeat
GROUP EXHIBITION
THE THRILL OF VICTORY THE AGONY OF DEFEAT
21 Nov 2015 to 12 Dec 2015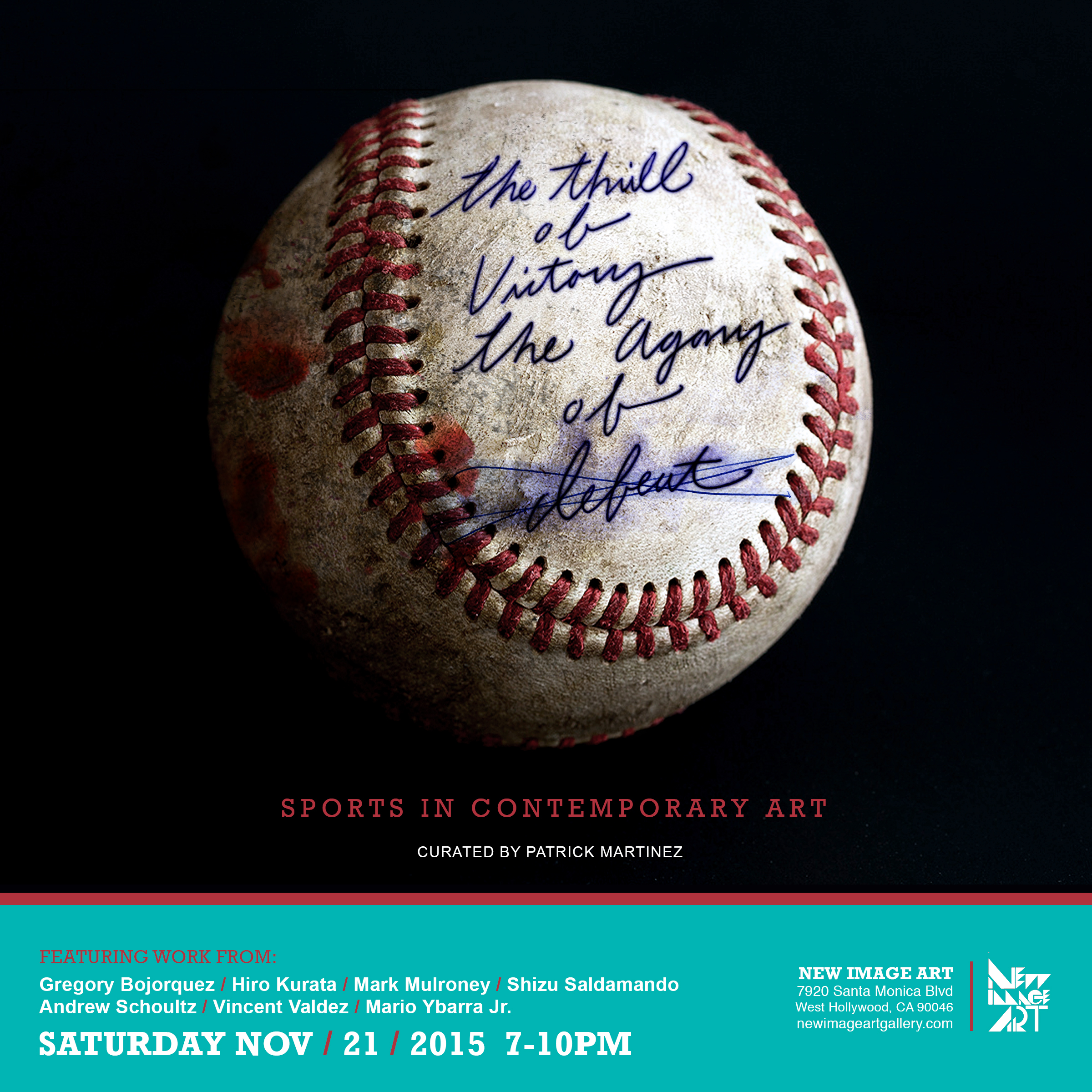 New Image Art is pleased to present The Thrill Of Victory And The Agony Of Defeat: Sports In Contemporary Art. A group exhibition curated by Patrick Martinez featuring work from Gregory Bojorquez, Hiro Kurata, Mark Mulroney, Shizu Saldamando, Patrick Martinez, Andrew Schoultz, Vincent Valdez, and Mario Ybarra Jr. The exhibition features sculpture, drawings, paintings, and photography.
Growing up as boxing enthusiast within the Los Angeles environs, curator and artists Patrick Martinez was always around family and friends more apt to participate in organized sports than painting pictures. With a genuine interest for both contrasting activities, Martinez always seemed to find a spark of interest between the two. The forward progression of these dueling interests provided Martinez with a foundation from which to expand such concepts further through exhibition form.
The challenges faced by athletes in pursuit of excellence and the eminent possibility of failure upon each attempt they stake, parallels in many ways the course of a dedicated artist. You have to train and put in the work before you can compete on a noted level and effectively have something to say. When an athlete is in the act of competing, there is a conscious choice to be present in the moment, much like an artist in the studio working towards a forthcoming solo exhibition. Skill and technique are valued but often passion and grace win the race. One has to adjust and react with the intuition as well as intellect.
The Thrill Of Victory The Agony Of Defeat highlights sports based contemporary art from a notable group of established artists. The work varies stylistically and conceptually ranging from the baseball inspired AstroTurf drawings of Hiro Kurata to the more traditional boxing portrait drawings by Vincent Valdez. Reflecting on various reoccurring issues pertaining to race, class, and sociopolitical experiences, some of the work in this exhibition provokes critical thought from viewers while other work conveys humor and nostalgia to evoke interest.
"Growing as an artist is much like training to become an athlete. It's an evolution. It's digging deep into your gut and heart; a real personal journey", remarks Patrick.
Martinez' interest in boxing, basketball, and baseball continues to bide for his time with a circle of friends that still actively practice and attend sporting events. If it;s fight night, he'll most likely order the pay-per-view event. Appropriately, opening night of this exhibition will entail free viewing of the much anticipated pay-per-view fight between Miguel Cotto and Canelo Alvarez which happens to fall on the opening night of The Thrill Of Victory The Agony Of Defeat.